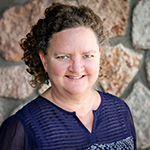 Executive Asst. of the Dean
Helen and Arthur E. Johnson Beth-El College of Nursing and Health Sciences
Choose Your Commute | Walk
Favorite Place on Campus: My favorite place on campus would be so hard to choose! I've been here just over 18 months and have lots left to see. If I had to choose, it would be the area near the Heller Center. I've hiked there with my sister and also participated in Trek the Trail this last year.

What factors helped you 'Choose your Commute'?
When I moved here from Minnesota, I took an apartment sight unseen, about 3 miles from campus. It was fine to start out, but once I found out about the secret neighborhood near my building (University Hall), I knew that's where I wanted to be. I have not been able to walk to work since I was in my 20s when I lived in Madison WI and it was so great, I knew I wanted to do it again.

What are the perks of your commute?
I love nature and have done a lot of home gardening. I enjoy seeing what's changed every day and trying to figure out the plants here that would not survive in Zone 3 in Northern Minnesota. Walking is my favorite form of exercise and I love seeing my neighbors out and about on my way to/from work. I do not purchase a parking permit and the wear and tear on my car has been drastically reduced. I have a 10 year old Subaru that will last so much longer because I only use it a couple times a week.

What barriers (if any) did you have to overcome?
I'm still getting used to the hills here, but it's getting better all the time. Duluth is very hilly too, but the elevation is only 702. Thinking that I would need my car at work when I had an appointment to get to during the work day. My walk home is about 5-6 minutes…so I just go there, get my car and I'm off to my appointment.

What is one thing you'd like your fellow Mountain Lions to know about walking to/from campus?
It's easier than you think…if you think outside the box. And, if need be, you can combine modes of transportation…walk to the bus stop and then walk to campus.